IDW Publishing has released their publishing plans for October. The adventures of Doctor Who and the The Next Generation crew continues. The ongoing series ties back to the first movie by showing the origin of Scotty and his sidekick Keenser. Three comics and one book is being released that month. If you are interested in the books, just let your local comic book store know. For the full details of IDW's other books including GI Joe, TMNT, Transformers, Locke & Key and more click
here
.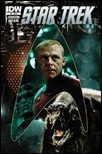 Star Trek #14
Mike Johnson (w) • Stephen Molnar (a) • Tim Bradstreet (c)
The countdown to next summer's blockbuster STAR TREK sequel continues here! Find out how Scotty and his alien sidekick Keenser first met in this in this all-new story overseen by STAR TREK writer/producer Roberto Orci!
FC • 32 pages • $3.99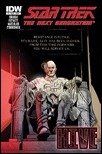 Star Trek: The Next Generation: Hive #2 (of 4)
Brannon Braga, & Terry Matalas & Travis Fickett (w) • Joe Corroney, photo (a & c)
Captain Jean-Luc Picard and the crew of the Starship Enterprise face off against a deadly new foe that threatens the very galaxy itself. But they This time, they do not meet their enemy alone, but with a most unlikely ally—the Borg!
FC • 32 pages • $3.99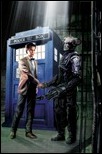 Star Trek TNG/Doctor Who: Assimilation2 #6 (of 8)
Scott & David Tipton with Tony Lee (w) • J.K. Woodward (a & c)
The two greatest science-fiction properties of all time cross over for the first time in history, in STAR TREK: THE NEXT GENERATION/DOCTOR WHO: ASSIMILATION2! An unexpected alliance is formed, providing a glimmer of hope in surviving the CyberBorg onslaught!
FC • 32 pages • $3.99

Star Trek: The Newspaper Strips, Vol. 1
Thomas Warkentin, Sharman DiVono, Ron Harris (w & a) • COVER ARTIST (c)
Presenting the rare newspaper strip from the late 1970s and early 1980s that Star Trek fans have eagerly awaited. Volume One includes the first ten story arcs, from the strip's debut on December 2, 1979 through October 25, 1981. Stories and art by Thomas Warkentin, Sharman DiVono, and Ron Harris.
HC • PCXX • $49.99 • 264 pages • 8.5" x 11" • ISBN 978-1-61377-494-6